The Refugee Legal Centre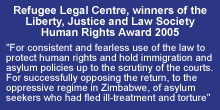 The Refugee Legal Centre (RLC) is an Independent Organisation Offering Legal Advice, communication and general Representation to Asylum Seekers and Refugees.
The Refugee Legal Centre is a Registered Charity and a Company Limited by Guarantee. The organisation is funded by a contract with the Legal Services Commission and SIA approved. We are subject to the regulation of the Office of the Immigration Services Commissioner (OISC). We are members of the Immigration Law Practitioners Association (ILPA).
The Refugee Legal Centre is governed by an Independent Board of Trustees who have overall responsibility to ensure, with the assistance of the Chief Executive and staff, the delivery of quality legal services to those seeking human rights protection.
The Refugee Legal Centre is a national organisation with a central office in London and twelve regional offices.
Our Mission / Mission Statement
Providing legal advice, security and representation to those seeking protection under international and national human rights and asylum law.
Seeking to promote the interests of our clients individually and collectively through law and public policy.